It was awesome to get back to conducting in-person mock trial research this past weekend!  While things looked a bit different, it still checked off all the boxes for a successful project and, as always, we gained some incredibly important insights that will help us prepare for trial. Part of the reason this project was so important is because so many attorneys are wondering if mock trial research is even possible in the coming months. The answer is a resounding yes and, most important, there are a variety of ways to conduct the research while protecting the health and safety of everyone involved. This is important because, while so many in our industry were quick to put into the place the ability to conduct online mock trials, the reality is that online mock trials simply do not live up to the real thing and many attorneys understandably do not want to go that route. Here are some specifics about our project this past weekend to give you a very clear picture of how these can be fielded in the coming months: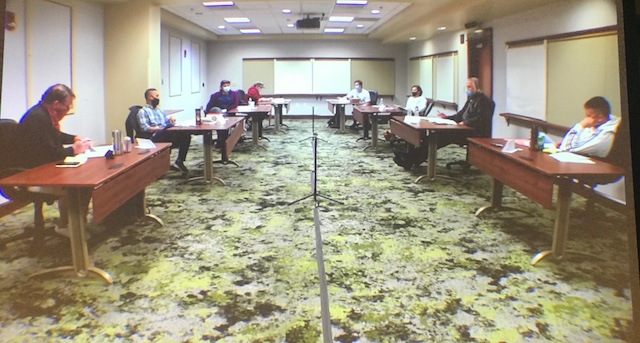 Compliance with state and local orders. Our project was in a venue where we were able to conduct the project while still remaining compliant with state and local orders. This may not be the case with every trial venue, so the first and most important step is ensuring that you can field a project like this without violating any orders that are in place.
Pre-recorded presentations. We recorded the presentations in advance so there would be no need to have a large group of mock jurors in a live presentation room. Instead, the mock jurors were able to watch the video presentations in their individual rooms of no more than ten people. There are ways to make the presentations engaging enough to keep mock jurors' attention. We recommend including graphics, exhibits, and witness video clips. Put together by a professional like our own Taylor Forrest and the final product looks like a film documentary. In the age of Netflix, Hulu, and Amazon, people are used to being presented with information via a TV monitor, so while "live" might be preferred, this really proved to be a great option.
Smaller groups. Typically, we try to have ten participants in each mock jury group. For this project, we reduced the number to eight, which helped us with distancing and obviously keeping each group within the county, state, and CDC guidelines. We noticed that the slightly smaller groups led to everyone being fully engaged unlike what we sometimes see with groups of ten where you have one or two people that generally remain silent throughout deliberations.
Careful recruitment. We added an additional, detailed section to our usual mock juror recruitment screener that asked about signs, symptoms, and exposure to COVID and were careful to ensure that we did not place our participants at higher risk by having someone show up who has been exposed to the virus over the past month or has shown any symptoms. Notably, several attorneys have asked how it is possible to recruit a representative sample during these times. We were pleasantly surprised with our sample, but most important, our national survey data showed that 45% of respondents would not show up for jury duty in the weeks after the stay-at-home orders were lifted out of concern for their health. So the question is not, can you still get a representative sample? The real question is, what is a representative sample anymore, and our survey data helped us understand exactly who we could expect to show up for jury duty in this case. We also used a relatively new recruitment company that has quickly made its mark in the business by taking a different and far superior approach to recruiting than any of the other recruiters we have used in the past. They were easy to work with, extremely diligent, and because it was started by folks who know the legal and litigation consulting system inside out, they knew exactly what kind of folks we needed to show up.
Health and safety measures. We took so many health and safety measures at our project that several mock jurors commented how happy they were about the setup. We assured all participants from the first time we spoke to them in the recruitment process that we are following all CDC, county, and/or state guidelines. We kept everyone at least six feet apart throughout the project. Every meal or snack was individually boxed. All of the recruited participants knew they would be required to wear a mask, which they were happy to do. We provided sanitizer stations in every room, along with wipes.
Facilities with larger rooms. We chose a facility for our project that had larger rooms than we typically use, which allowed us to make sure everyone was safely distanced from each other. We made sure the facility was not only conducive for a set-up requiring larger rooms, but also had protocols in place to meet the guidelines and make the participants feel comfortable about being there. We conducted this project in a hotel's conference center that we have used numerous times. They were dialed in: hand sanitizing stations, alcohol wipes at each person's spot, all employees in masks, individual breakfast, lunch, and snack boxes, and plenty of room for people to socially distant during breaks, etc.
Deliberation rooms that allow for safe social distancing. As you can see in the photo above, we made sure there was room for participants to be six feet apart. Originally this sounded a bit daunting not only from a logistical standpoint, but we also wondered what it might do to participant interaction. Those fears were unfounded. Our set-up team did an amazing job making sure that each participant had their own space, and they still managed to get everyone in the video shot that was then fed to our closed-circuit room (and to clients across the country). Even more important, the distance did not impact the deliberation process. The discussions were fruitful and lively – just like before. Even wearing masks, the mock jurors were engaged and, as noted before, provided much needed feedback.
Livestreams of the project. Some of our clients were unable to attend our project due to concerns about flying or traveling outside of their home state, but we were able to find a solution for them. We added the technology to be able to live feed the deliberations securely to clients who could not attend the project. We have a feeling that the days of having attorneys and clients fly in from all over to watch in person are probably over for the time being. That makes being able to securely send the video signal to people in numerous locations all the more important.